Sistema de estacionamento
Intelligent system that helps drivers find and reserve a free parking space on the street faster by informing drivers of free parking spaces through beacons, road studs and electronic displays.
Parking system
The problem of cities
Today's big cities face major traffic problems.
Parking problems cause street congestion and waste of time for drivers looking for spots.
30% of congestion in urban areas is caused by drivers looking for an available place. This is inconvenient, a waste of time and increases carbon dioxide emissions.
iMAPARK project
Due to these issues, the iMAPARK solution was created in partnership with SERNIS, Globaltronic and Altice Labs to create an integrated parking control system.
The iMAPARK project is an intelligent system that helps drivers find and reserve a available parking spot on the public road more quickly.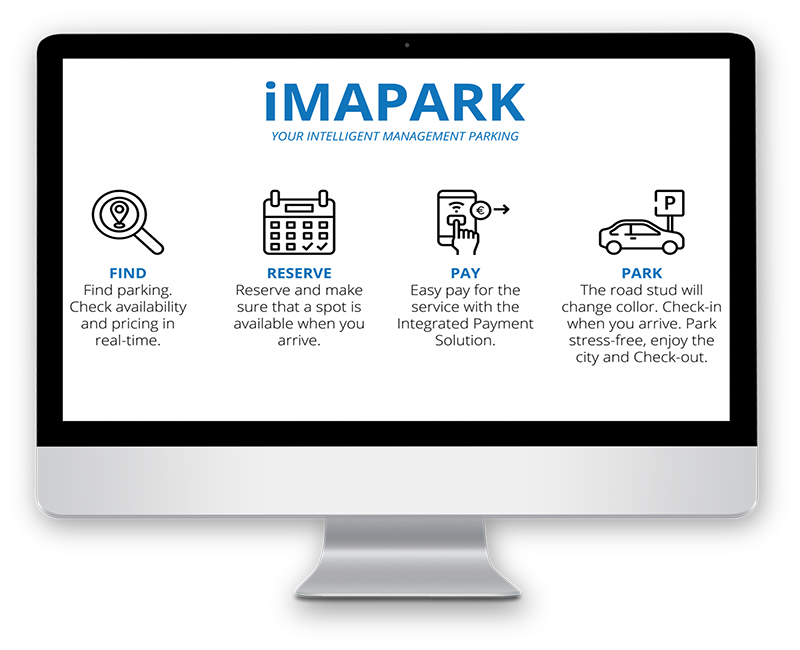 Parking sensors
The kit contains road studs, that serves as power supply for the sensor and for itself. It is located outside the parking spot, visible from the road even when a car is parked and inform drivers about the occupancy status of the parking spot.
Each parking spot have a sensor in the middle that sends information about availability of the spot to the Gateway.